Productive and exporting platforms in Valle del Cauca
Investors choose Valle del Cauca for its competitive advantages, for offering an attractive value proposition to facilitate the development and expansion of different investment projects that are established in the region. The value added proposition can be summarized in five business models: Productive and exporting platforms, Distribution centers, Shared services centers, Biobusiness and R&D+i.
Thanks to its strategic location and the production cycles offered by the region, Valle del Cauca is the ideal destination for the establishment of manufacturing production plants with export vocation that also serve the local market.
Valle del Cauca has a dynamic and competitive logistics environment, it is an obligatory step for shipping lines covering the maritime routes between the northern and southern hemispheres, and, due of its proximity to the Panama Canal, it also facilitates east-west interconnections and access to the two oceans.
The region offers one of the most cost-efficient
multimodal platforms of Latin America.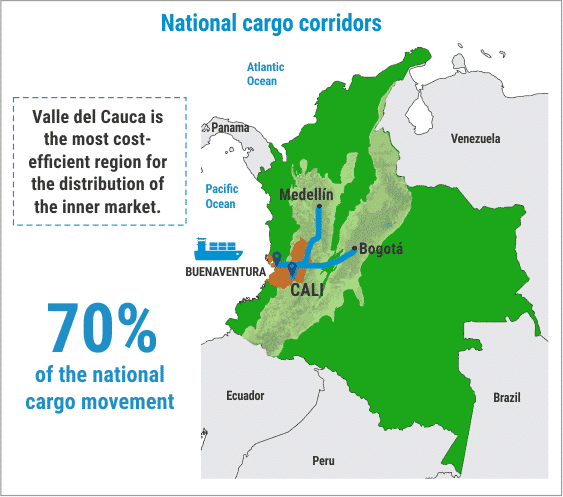 Buenaventura port, responsible for more than 40% of Colombia's international trade, the international airport, freeways and industrial and logistic free trade zones, provide an ideal infrastructure for the establishment of foreign trade-intensive manufacturing operations, as it is easy to import raw materials and export finished products. The region also offers qualified human talent with specific know-how and competitive costs.

From Valle del Cauca it is easy to serve 65% of Colombia's population and all markets in the Pacific Basin countries in America. Colombia is also a highly commercial integrated country, especially with other countries in Latin America, North America and Europe. The country has subscribed trade agreements with more than 60 countries and economic integration blocks and a long-standing commercial exchange experience.
Colombia has a stable economy and a solid legal
framework that offers protection to investors.
Exporting and productive platforms are a proven business model in Valle del Cauca.
For more than 60 years the region has seen the permanent arrival of companies from all around the world like Colgate Palmolive, Goodyear, Unilever, Johnson & Johnson, Reckitt Benckiser, Hero MotoCorp, Furukawa and Smurfit Kappa, among others, that, using Valle del Cauca´s logistical advantages, business network, strategic location and human talent have successfully served the markets of Colombia and Latin America.
This world class business network has given Cali the nick-name of "Colombia's multinational cradle".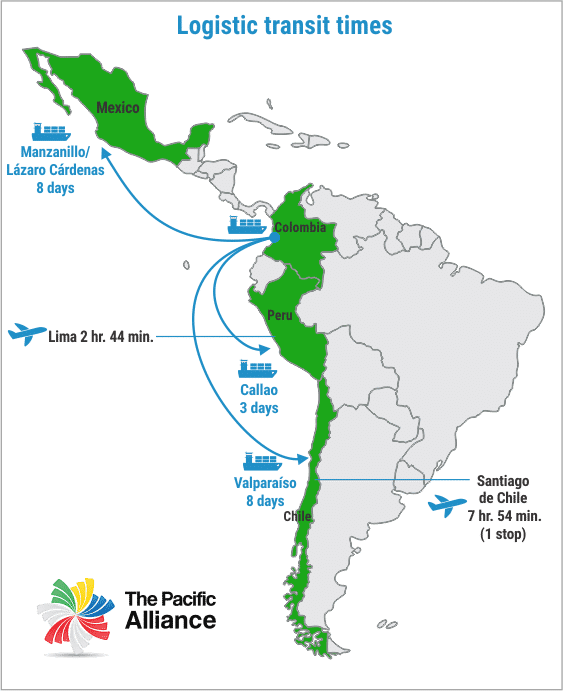 Some companies with production plants in the region
Manufacturing Sector Investment Manager
mconcha@investpacific.org
Manufacturing Sector Investment Manager
mconcha@investpacific.org